Oat Innovations for Wellbeing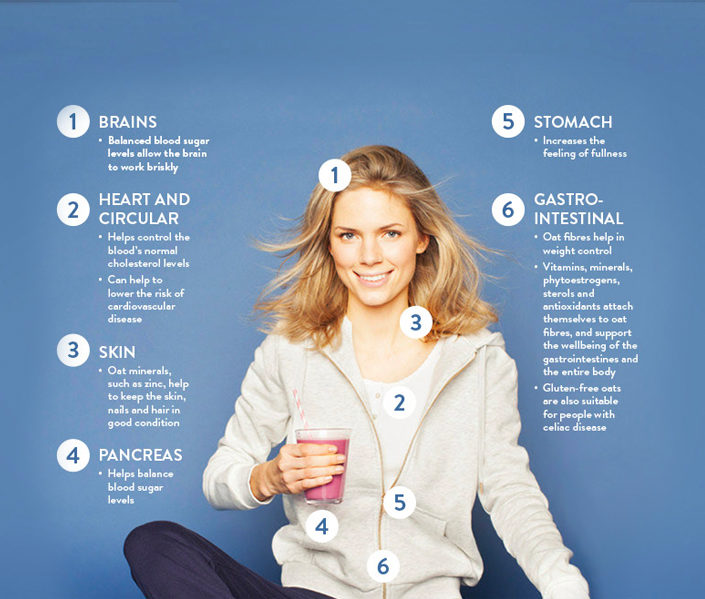 Oats are a good choice. Eating Finnish, northern oats provides you with a wide range of health benefits.
The European Food Safety Authority EFSA has approved four health claims for oats.

Oats provide multiple possibilities to innovate health-enhancing food products.
Over the centuries Finns have specialized in growing oats and have learned how to utilize the health benefits of oats. The traditional Finnish healthy oat dishes have been porridge, bread, biscuits and rusks, which have contributed to the national health of Finns for years.
Thanks to the long history in using oats, Finnish oat research has also become world famous. Finnish experts have specialized in the health and nutritional effects of oats. The greatest achievements in the field of oats science have been beta glucan research and pure oats gluten free research and analytics. Finland has developed highly specific oat species which contain high levels of beta glucan fibres. There is also high expertise in the treatment of healthy nutrition and special diets, and, for example, weight management and diabetes, which is utilized in the development of most innovative oat products. The research enhances the international competitiveness and value of Finnish oats through the understanding of its various food uses, consumer requirements and grain quality research. Find the latest Finnish research on oats on the Oats and Health –website.
If one was to mention some of the Finnish oat product innovations, they would include YOSA® products. YOSA® is a, non-dairy, fermented oat product made from oat and oat bran. Provena® is a line of various gluten free oat products that are suitable for coeliac disease patients who can tolerate oats. Those and many other significant oat product innovations have been made in Finland.